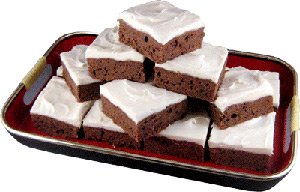 4 oz Semi-Sweet Baking Chocolate, coarsely chopped
1/2 Cup Butter
1/2 Cup Sugar
2 Eggs
1/4 Cup Irish Cream
1 Cup All-Purpose Flour
1/2 Teaspoon Baking Powder
1/4 Teaspoon Salt
Irish Cream Frosting (recipe follows)
Preheat oven to 350F.
Grease 8 inch square baking pan. Melt chocolate and butter in medium heavy saucepan over low heat, stirring constantly. Remove from heat. Stir in sugar. Beat in eggs, one at a time, with wire whisk. Whisk in Irish Cream. Combine flour, baking powder and salt in small bowl; stir into chocolate mixture until just blended. Spread batter evenly in prepared pan.
Bake 22 to 25 minutes or until center is set. Remove pan to wire rack; cool completely. Prepare Irish Cream Frosting; spread over cooled brownies. Chill at least 1 hour or until frosting is set. Cut into 2-inch squares.
Yield: 16 brownies
Irish Cream Frosting:
1/4 Cup (2 oz) Cream Cheese, softened
2 Tablespoons Butter or Margarine, softened
2 Tablespoons Irish Cream
11/2 Cups Powdered Sugar
Beat cream cheese and butter in small bowl with electric mixer at medium speed until smooth. Beat in Irish Cream. Gradually beat in powdered sugar until smooth.

Disclaimer: LittleShamrocks.com is an affiliate website that receives commissions from sales of the products listed. We have purchased and sampled many, but not all, of the products on these pages.

© Copyright LittleShamrocks.com. All Rights Reserved.