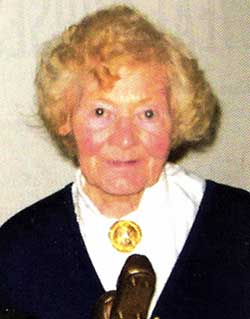 8th October 2008 by
Brian Ó Gordúin
This article is taken from the 2009 Leitrim Guardian yearbook and reprinted with the consent of Myra Reynolds, Editor.
TERESA BOHAN, Nee McGowan, was born in Mohill on 4th June 1921. Teresa was one of a family of six, daughter of William and Elizabeth McGowan, and lived in Green Lane Mohill. Lily is now the only surviving sibling.
Growing up in Mohill as a young girl, Teresa had an early introduction to the G A A, as her father was involved in the local Club and her brother, Billy, was a stalwart defender with Mohill, playing for over four decades. She had a recollection of attending games with her father as a young girl and soon became accustomed to the local banter and parish rivalry that existed. This early experience sowed the seeds of what was to be a life-long love affair with the G A A in Mohill and Leitrim. As a teenager, Teresa worked in Ellis's Hotel, which is now Paul's News Agency and Flynn's Bar and Grocery, which was to become Early's Bar on Main Street. She eventually moved to employment in Rynn Castle and worked there for many years.
I think it was during her time there that she first met her husband to be, John Patrick Bohan. They would eventually marry in 1958, and first lived in Augharush, beside Errew Lake. It was here that their son, Gerard, was born.
During their courting years, Teresa and John Patrick cycled the highways and byways of Ireland supporting their native county Leitrim. They both had fond memories of cycling to places like Tuam, Roscommon and Cavan to mention but a few. Her heroes at the time included The Poocher Gordan, Packie McGarty and Cathal Flynn. Of course she didn't always cycle to games. She took delight in telling the story of a trip to the Grange in Cloone many moons ago. Teresa and her sister, Lily, were on Shanks Mare and were running late for the game when they came across some Jerusalem transport in the form of a donkey. Having successfully boarded the bould neddie, he refused to budge an inch. However, help arrived in the form of two local lads, who proceeded to kick start the transport. The donkey didn't take too kindly to this, and promptly discarded his two passengers and scampered off with his heels in the air, towards Cloone.
While parish rivalry is always fierce in the G A A games with Gortletteragh, it got Teresa's dander up more than anything else. The fact that she lived in the parish of Gortletteragh didn't help either. She was constantly reminded where her loyalties should lie but she always replied 'I might be living in Gortletteragh, but I'm a Mohill woman through and through'.
Aidan Kellegher recalled, the other night, a famous match which took place between Gortletteragh and Mohill in Foxes Field around 1964. For some reason, the appointed Ref failed to show and, after much deliberation, it was agreed that Peter Gordon from Mohill would take charge of the game. It wasn't long before Teresa became involved after a couple of heavy tackles by Fr Tom and J J O'Rourke on brother Billy. Some of Peter Gordon's decisions didn't help the situation either and all hell broke loose when Teresa weighed in with the brolly. Many years later, the late Brendan Gallagher recalled the occasion, when he said it was the longest match in the history of the G A A. It started at 3:00 and finished at 7:00., when Peter Gordon and Teresa Bohan ended up in the river which ran along the side of the pitch.
She locked horns with the famous priest at a match in Cloone. She didn't like some aspects of his play and got into a running verbal battle with him during the course of the game. She was advised at the time that it wasn't lucky to be shouting at a man of the cloth. However, that didn't deter Teresa, and she had a moral victory when, after the game, the good curate came over and shook her hand and congratulated her on being such a great supporter of her club.
Another great story, again, involves a member of the clergy. Some years ago, a young priest arrived in Mohill. Word was about that he was a handy footballer but there was also a rumour that he was going to play with Eslin. I was Chairman at the time and Teresa had mentioned to me at some of our club draws about the rumour, and I assured her that there was nothing to be concerned about.
A few weeks later at our AGM, coming towards the end of the meeting, the bould Teresa popped the question: 'Who was Fr Pat going to play for?' At that stage Fr Pat hadn't declared his intentions so I didn't really have an answer. Enter Johnny Duignan: 'Chairman - You haven't answered Teresa Bohan's question' - Johnny turns to Teresa - 'You'll be seeing Fr Pat next Saturday' - 'I will Johnny' she said - 'I want you to convey the decision of the meeting' - 'Whats that Johnny?' - 'Where a Goose gets her corn that's where she lays her egg.' I don't know what she said to Fr Pat but he declared for Mohill - another moral victory for Teresa.
Her passion for Mohill knew no bounds. In the late fifties, emigration had taken a heavy toll on the club. In 1957, the Saturday night before the Junior Final, nine of the team emigrated to London. The following day Mohill were due to play Manorhamilton in the Junior Final. With Teresa's help and local knowledge, nine players were rounded up from Gortletteragh and history records that Mohill won the Junior Championship and fellas that never kicked a ball in Mohill became overnight stars.
The following year, in 1958, it appeared that the Club would not be able to field a team, and one of its stars at that time, who was working in Dolphins Garage in Ballinamore, thinking that Mohill wouldn't have a team, declared to Ballinamore. However, the Club scraped together a team and entered the Junior Championship. However, his worst fears were realised when the unthinkable happened. Ballinamore were drawn to play Mohill in the first round in Mohill. How was he going to face his old friends and teammates which included his Uncle John Joe Cassells? He thought about going to England himself, getting injured, anything but play Mohill. Anyways, the dreaded day arrived and he made his way to the park in Mohill. He met a few friends on the way who wished him luck. Things weren't going too bad at all, he thought! However, on his way to the pitch from the dressing room, he recognised a female voice - 'Go on you traitor' - which was followed by the belt of an umbrella. Gerry told me last night that he also had to deal with John Joe when he did get on to the pitch - and we all know he took no prisoners. However, off the pitch, Christy and Teresa remained the best of friends.
Teresa had one real ambition and that was to see Mohill win a Senior Championship. She had missed Mohill's victory in 1971, due to the death of her father-in-law, William Bohan, and, as the years passed by, she often wondered if she would ever see the realisation of her dream.
However, on 8th October 2006, all that was to change. Even though in failing health, with the help of Therese Foy, her grand-niece, she managed to make it to Cloone and her dream was fulfilled when the Mohill lads brought her the cup which she had waited so long to get her hands on. She turned to me and said 'I can die happy now'.
Off the pitch, Teresa Bohan was recognised as one of Leitrim's greatest supporters. Herself and her chauffeur, Maura Duignan, travelled all over the country supporting Mohill and Leitrim. Both of them were honoured by the Mohill Club when appointed as Life Presidents of the Club in 1978.
However, Teresa's greatest honour arrived, when in 2001, she was elected as President of Leitrim G A A at the County Convention in Drumkeeran. On that evening, she received a standing ovation as she took her place at the top table. Central Council delegate on that day, Gerry Mahon, described her as the 'People's President'. It was the first time in the history of the G A A in Ireland that a woman had been elected President of a Co Board; surely, further recognition of the respect she had in Leitrim. Such was her love for the game that she often went to three and four games on the same day. At Club level, she never missed a meeting and was always actively involved in fundraising, park development or whatever was on the agenda at the time. Up until the last year or two, she was a regular at our lotto draws every Saturday night, where she ensured every envelope was stamped.
Teresa was also a very thoughtful and caring person. I'm sure there isn't a family in Mohill or neighbouring parishes who haven't experienced her kindness. No matter what the occasion, Teresa's was always the first card to drop through the letterbox or hers the first phone call.
Unknown to many people, Teresa was a fine singer and two of her favourite songs were Sweet Mohill For Me and Lough Rynns Wooded Shore. Her good friend, Tom Lynch, had a group of friends up from Kerry many years ago and Teresa brought the house down with her rendering of Sweet Mohill For Me - all sixteen verses.
Apart from the football, Teresa enjoyed the simple things in life - tending her garden at her beautiful rose cottage in Lough Rynn, ceileing with friends and neighbours, shopping in Mohill, the odd game of bingo, looking after the two men in her life.
While Gerard didn't play much ball, I think he spent too much time on the back of the bike. Teresa was so proud of the work he carried on for years at underage level, along with their great friend Tom Lynch - and affectionately christened them 'The Tom & Gerry Show'. Prouder still was she of Gerard's Down Memory Lane which appears in the sporting pages of the Leitrim Observer and is read the length and breadth of Ireland, England and America. I know she played a big part in helping Gerard compile that weekly column.
John Patrick liked to have the odd flutter on the nags and she always ensured that the bet was placed before she left Mohill. If she forgot to put it on, she made sure he didn't get the paper the next day to check the results! She reckoned he had as much luck on the horses as she had at bingo - they never won anything!
Teresa Bohan was a legend in Leitrim - we will never see the likes of her again. Speaking to two Leitrim supporters last night, who had travelled from Rossinver and Kinlough, really summed up how well Teresa was respected in the G A A fraternity. When I thanked them for attending her Removal, they replied 'We would have travelled even to China to pay our last respects to Teresa Bohan'.
Finally, on behalf of all her friends, our Club and Co Board, I would like to offer our condolences to her husband John Patrick, son Gerard, sister Lily, nieces, nephews, relatives and family friends.
Teresa Bohan, it was a privilege to have known you! Ní bheidh a leithéid arís!

Disclaimer: LittleShamrocks.com is an affiliate website that receives commissions from sales of the products listed. We have purchased and sampled many, but not all, of the products on these pages.

© Copyright LittleShamrocks.com. All Rights Reserved.