Tyna's Famous Turkey Stuffing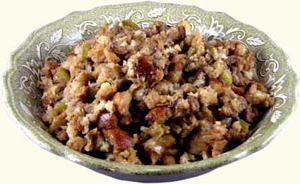 (For a 20 lb Turkey)
1 Cup Chopped Onion
1 Cup Chopped Celery
1 Cup Chopped Mushrooms
1 Cup Butter
4 Quarts Dry Bread Cubes
1 Teaspoon Salt
1 Teaspoon Pepper
2 Teaspoons Poultry Seasoning
2 Teaspoons Ground Sage
1 Cup Turkey Broth - recipe below
In a Dutch oven, cook onion, celery and mushrooms in butter, until soft. Add the seasonings and the bread cubes. Add the broth a little at a time and toss until you reach the consistency you desire (I like my stuffing moist). Stuff the neck cavity, then truss. Sprinkle large cavity with salt, then stuff and truss. Cook the turkey according to your favorite recipe.
Turkey broth:
When thawing your turkey, add the neck and gizzards to 1 quart of boiling salted water. Add 1 small onion quartered, 1 carrot, peeled and quartered, and 1 stalk celery, cleaned and quartered, 2 bay leaves and 4 or 5 black peppercorns. Strain the broth and use for stuffing and gravy. Discard the neck (I chop up the remaining gizzards and give them to my dogs).

Disclaimer: LittleShamrocks.com is an affiliate website that receives commissions from sales of the products listed. We have purchased and sampled many, but not all, of the products on these pages.

© Copyright LittleShamrocks.com. All Rights Reserved.