Creamy Irish Rice Pudding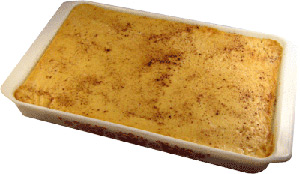 2 Quarts Milk
1/2 Teaspoon Salt
1 Cup Long-Grain Rice
1/2 Cup Dark Seedless Raisins
3/4 Cup Sugar
1 Tablespoon Vanilla
2 12 oz Cans Evaporated Milk
4 Large Eggs
Ground Cinnamon
Begin early in the day. In a 4-quart saucepan over medium heat, heat milk and salt to simmering; stir in rice. Reduce heat to low; cover and simmer 45 to 50 minutes until rice is very tender and mixture is thick, stirring occasionally. Stir in raisins.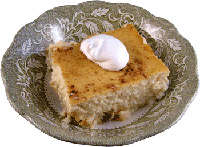 Preheat oven to 350F.
Grease 132 x 92 baking dish; set in a large roasting pan.
In a large bowl, with wire whisk, beat sugar, vanilla, evaporated milk and eggs until blended; gradually stir in hot rice mixture.
Place the baking dish in the pan on the middle oven rack; carefully pour rice mixture into baking dish (mixture will almost fill dish). Fill roasting pan with boiling water to come half way up sides of baking dish. Bake 40 to 45 minutes until knife inserted in center of pudding comes out clean. Carefully remove baking dish from roasting pan; sprinkle with ground cinnamon. Serve with whipped cream. Yield: 16 servings

Disclaimer: LittleShamrocks.com is an affiliate website that receives commissions from sales of the products listed. We have purchased and sampled many, but not all, of the products on these pages.

© Copyright LittleShamrocks.com. All Rights Reserved.