Irish Applesauce Spice Cake Fancies Decorated for Christmas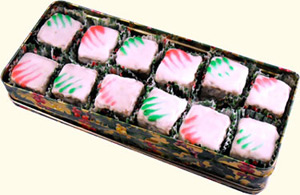 2 1-1/2 Cups All-Purpose Flour
1 Cup Whole Wheat Flour
1 Teaspoon Baking Soda
1 Teaspoon Ground Cinnamon
1/4 Teaspoon Ground Allspice
1 Cup Firmly Packed Dark Brown Sugar
1/2 Cup Margarine, softened
1 1/4 Cups Sweetened Applesauce
2 Eggs, beaten
1/3 Cup Light Molasses
Preheat oven to 350F.
In a medium bowl, combine all-purpose flour, whole wheat flour, baking soda, cinnamon and allspice; set aside.
In a large bowl, with electric mixer at medium speed, beat brown sugar and margarine until creamy. Add applesauce, eggs and molasses; beat until smooth. Gradually add flour mixture, beating until well blended. Pour batter into 13 x 9 x 2 inch square pan lined with waxed paper. Bake at 350F for 40 minutes or until toothpick inserted in center comes out clean. Cool in pan for 10 minutes, then turn out onto wire rack and remove waxed paper. Cool completely.
Glaze:
5 Cups Powdered Sugar
1/2 Cup Milk
1/2 Teaspoon Vanilla Extract
Using an electric mixer at medium speed, combine sugar, milk and vanilla until smooth and it lightly coats the back of a spoon.
Assembly:
Trim off 1/2 inch of each side of cooled cake. Measure and cut into 1 1/4 inch squares.
With a spoon, drizzle glaze over the tops and sides of each piece. Do this 3 times to be sure each piece is covered completely. Sprinkle the tops with assorted holiday sprinkles or decorate with red and green glaze. Let dry completely and store in an air tight container.

Disclaimer: LittleShamrocks.com is an affiliate website that receives commissions from sales of the products listed. We have purchased and sampled many, but not all, of the products on these pages.

© Copyright LittleShamrocks.com. All Rights Reserved.