Pumpkin And Cream Cheese Roll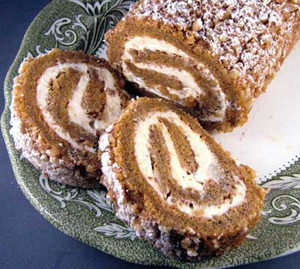 3 Eggs
1 Cup Sugar
2/3 Cup Pumpkin
1 Teaspoon Lemon Juice
3/4 Cup Flour
1 Teaspoon Baking Powder
1 Teaspoon Ginger
2 Teaspoons Cinnamon
1/2 Teaspoons Nutmeg
1 Cup Finely Chopped Walnuts
Preheat oven to 375F.
Beat eggs on high speed for 3 minutes. Add sugar and lemon juice; beat for 2 minutes. Fold in pumpkin. Sift together flour, baking powder, ginger, nutmeg and cinnamon. Fold into egg and pumpkin mixture.
Pour onto a well greased and floured cookie sheet; sprinkle with walnuts. Bake at 375 degrees for 15 minutes or until cake is golden brown. Flip out of cookie sheet onto a tea towel covered with powdered sugar. Put more powdered sugar on top of cake and roll in jelly roll fashion. Cool completely.
PUMPKIN CREAM ROLL FILLING: (or use my Best Cream Frosting Recipe)
1 8 oz Package Cream Cheese
4 Tablespoons Butter
1 Cup Powdered Sugar
1 Teaspoon Vanilla
Dash of Salt
Have cream cheese and butter at room temperature. Mix all filling ingredients together and beat until soft and fluffy. Unroll cooled cake. Spread filling evenly on top and re-roll. Dust with powdered sugar. Slice in one-inch slices and serve. Keep refrigerated.

Disclaimer: LittleShamrocks.com is an affiliate website that receives commissions from sales of the products listed. We have purchased and sampled many, but not all, of the products on these pages.

© Copyright LittleShamrocks.com. All Rights Reserved.