Dark Chocolate Irish Cream Tart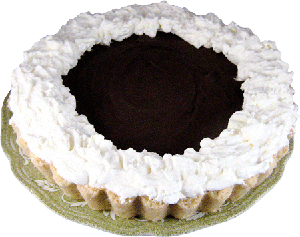 5 1/4 Tablespoons Butter
2 3/5 oz. Granulated Sugar
2 3/5 oz. Ground Almonds
1/2 Cup All-Purpose Flour
Pinch of Salt
2 Tablespoons Ice Water (or more)
1 1/3 Cups Whipping Cream
8 oz Good Quality Semi-Sweet Chocolate, chopped
3 1/2 Tablespoons Butter, chopped
2 Tablespoons Irish Cream Liqueur
To make pastry, mix butter, sugar, almonds, flour and salt in a food processor until smooth. With motor running, add water a spoonful at a time, until pastry clumps into a ball. Press into the base of an 8 inch tart pan, working from the center out, to cover base and up sides. Trim edges and refrigerate for 1 hour.
Preheat oven to 350F.
Line tart with foil and weigh down with beans or pastry weights. Bake for 15 minutes, carefully remove beans and foil, then bake for a further 5 - 10 minutes until lightly golden. Cool.
To make filling, heat cream until just before boiling point, when it "trembles". Place chocolate in a heatproof bowl. Add cream, leave for 1 minute, then mix well with a spatula. Add butter and stir until smooth. Stir in Irish Cream and pour into tart crust. Leave in a level place to cool, then refrigerate for 3 hours before serving.

Disclaimer: LittleShamrocks.com is an affiliate website that receives commissions from sales of the products listed. We have purchased and sampled many, but not all, of the products on these pages.

© Copyright LittleShamrocks.com. All Rights Reserved.