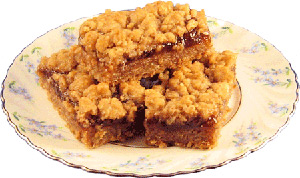 1 Cup All-Purpose Flour
2 1/2 Cups Uncooked Quick Oats
1 Cup Packed Light Brown Sugar
2 Teaspoon Baking Soda
1/4 Teaspoon Salt
1/2 Teaspoon Ground Cinnamon
1 Cup Butter, softened
1 1/2 Cups Fruit Preserves or Jm, any flavor
3/4 Teaspoon Almond Extract
Preheat oven to 375F.
Beat butter in a large bowl until smooth. Add the first 6 ingredients and beat until well blended and crumbly. Reserve 1/3 of the mixture for topping. Press remaining 2/3 crumb mixture onto bottom of un-greased 13 x 9 inch baking pan. Bake 15 minutes; let cool on wire rack for 5 minutes.
Combine preserves and almond extract; spread over crust; sprinkle evenly with reserved crumb mixture. Return to oven; bake 20 to 25 minutes or until topping is golden and filling is slightly bubbly. Cool completely in pan on wire rack. Yield: 2 1/2 dozen bars
Note:
If using raspberry or blackberry preserves, buy the seedless variety for a smoother filling.

Disclaimer: LittleShamrocks.com is an affiliate website that receives commissions from sales of the products listed. We have purchased and sampled many, but not all, of the products on these pages.

© Copyright LittleShamrocks.com. All Rights Reserved.