Mustard Scalloped Potatoes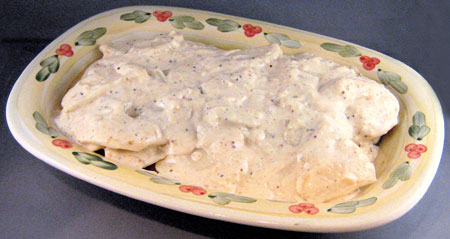 6 Potatoes, peeled and sliced
1 Tablespoon Olive Oil
1 Onion, chopped
4 Cloves Garlic, minced
1 1/4 Cups Alfredo Sauce
2 Tablespoons
Lakeshore Old Irish Mustard
1/4 Teaspoon Dry Mustard Powder
1 Cup Evaporated Milk
1/2 Cup Grated Parmesan Cheese
1/8 Teaspoon Pepper
1/4 Teaspoon Dried Thyme Leaves
1/2 Teaspoon Salt
Preheat oven to 350F.
Place potatoes in 3-4 quart casserole. In heavy skillet, cook onion and garlic in olive oil over medium heat until tender, 4-5 minutes. Add to potatoes in casserole.
In medium bowl combine remaining ingredients and mix until blended. Pour over vegetables, cover and cook for 1 hour at 350. Uncover and bake 30 minutes longer. Yield: 6 servings

Disclaimer: LittleShamrocks.com is an affiliate website that receives commissions from sales of the products listed. We have purchased and sampled many, but not all, of the products on these pages.

© Copyright LittleShamrocks.com. All Rights Reserved.