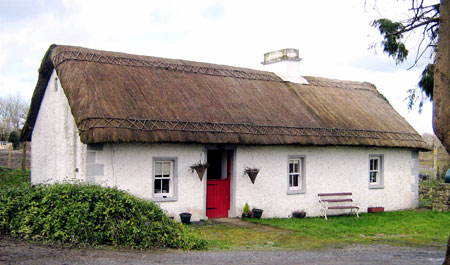 Cloonboney Cottage
Finding an Irish thatched cottage may not be as difficult as you may think. The tradition of covering a house with a straw roof, reeds or heather has been around for about 9,000 years. Back in the days of the Celts and the Pagans, it was the normal roofing system for cottages or huts. The Celts believed in using nature to the fullest, and would develop a craft such as thatching.
Over time, to see a thatched roof cottage became a scarce vision. With improvements in construction of homes, especially in the last 200 years or so, thatching craftsmen and the thatched roofs almost became a thing of the past. There was always someone who knew the craft from either working as an apprentice or having it passed down in the family.
Seeing a thatched cottage is a wonderful reminder of Irish heritage and craftsmanship. It is one of the most photographed images used in art posters and on post cards. Despite being a bit hard to find, thatched roofs have not completely disappeared. There is new interest in learning the craft, and you can still find a thatcher in most areas of Ireland. This means that the skills of the thatcher are being preserved.
People living in thatched houses must keep up with knowing where to find the local thatchers. The local pub is a great place to learn that information but word of mouth travels a long way in Ireland. And, if one knows where the thatcher is presently working, it doesn't hurt to 'accidently' stop by to admire the work. Homeowners want to keep their home on the thatcher's list if repairs are to be had without a long wait. They must be patient, though, because no thatcher wants to be rushed to finish one job and rush off to the next. It is not that type of work, as it takes time, care and expertise to do a proper job.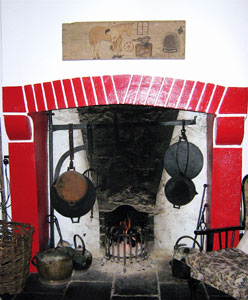 Cloonboney Cottage Hearth
A popular request of tourists on holiday to Ireland is to try to book a thatched cottage. My friend and I stayed in one called Cloonboney Cottage in Bornacoola, Mohill, Co. Leitrim, Ireland. We were told that it was the only one left in that area of the county. Our experience there was like going back in time. The cottage was 250 years old and was preserved beautifully, including the hearth with pots and pans hanging there. There was an addition in the back with modern plumbing for convenience. We were offered the use of it by our friends, John Reynolds and Bernie Reynolds, for one of our St. Patrick's Day trips. We felt very lucky and grateful for the experience. If you have the opportunity to rent a thatched Irish cottage, do take advantage of the situation. You will be very pleased with the experience.

Disclaimer: LittleShamrocks.com is an affiliate website that receives commissions from sales of the products listed. We have purchased and sampled many, but not all, of the products on these pages.

© Copyright LittleShamrocks.com. All Rights Reserved.