Our most recent trip took us back to Mohill, Co. Leitrim and all of our old friends. We really wished to experience St. Patrick's Day in Ireland so we planned it ahead. We were staying at O'Brien's B & B again and Jim and Phil welcomed us back with open arms. Phil even made us a snack of cheese sandwiches before we went to our room. It was the same room we had stayed in seven years earlier, on the front of the building facing Glebe Street.
We took a short nap and left to walk around Mohill. When we walked out the door of the B & B who do you think we encountered going into Carroll's Pub across the street? Our old friend, Peader MacRaghnaill! We met with him and his friend Declan, who invited us to join them for a pint. We went inside and sat down for a chat and some catching up. Later Peader's girlfriend, Ilene, came into join us. She worked at the local branch of the American company Masonite.
While we were enjoying our visit, who should walk in, but Gerry. He greeted us warmly and we had a nice time with him, too. He told us he still lived in the same place on Hill Street. We were getting hungry so we went next door to the local burger shop, which was eat in or take away. We decided to eat there and I ordered chicken fingers, Terry got a cheeseburger and we both had chips. The next morning we went to see the Casey's at Castle Gardens, their huge house at the bottom of the town. They didn't recognize me because I had lost 52 pounds since 1998. They invited us in to join them for a cup of tea. We relived our last visit there and all the changes that had come about. Thomas told us that someone had bought the farm house and was renovating it, and that the Leitrim Estate was being converted into a hotel and golf resort. We had a lovely time reminiscing.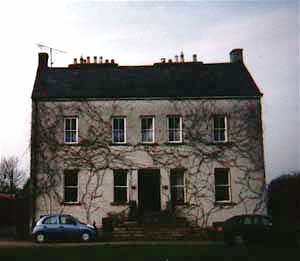 The next day we went into Carrick and Cryan's Pub. Liam Cryan was still there and Mary Burke was as well. From there we went shopping in town and had a grand time looking around. There were a lot of changes to the whole county and it had grown quite a bit. There were new roads, new homes and new business everywhere.
On St. Patrick's Day, we dressed in our green sweaters and went off to the parade. The streets were crowded with people. We were standing in front of the bank across from Clarke's Hotel, which was Kelly's Hotel in 1998. Teresa Bohan came walking up the street and we greeted her asking if she would like to stand with us to watch the parade.
Finally it started and there were bands, floats, both serious and comical, horses, and many of the businesses had representation as well. Jim O'Brien played the part of St. Patrick, dressed in a green robe and head piece. George was there dressed as Finn McCoul, the mythical giant, and he was perfect for the part. John Reynolds went by driving one of his horses pulling a jaunting car. Most of the pubs and shops were holding raffles with the top prize being a large Irish food gift basket, or hamper, as they would say. It was a lot of fun and everyone crowded into the various pubs afterwards.
For more information about Rynn Castle, Estate & Golf Resort,
click here
.
Click here for the next story
Revisiting John
.

Disclaimer: LittleShamrocks.com is an affiliate website that receives commissions from sales of the products listed. We have purchased and sampled many, but not all, of the products on these pages.

© Copyright LittleShamrocks.com. All Rights Reserved.