There we were ... in Ireland for St. Patrick's Day. This was actually the second time we had been there on St. Patrick's Day. The first time, LittleShamrocks.com had not yet been born. This time we started out the day by visiting with the Casey's. Unfortunately, Thomas was under the weather, and we were sorry that we weren't able to see him this trip. Maura, Irene, Terry and I visited for quite a while. I had brought a placard for young Tom to put at Casey's Bar. It said that the bar was featured on LittleShamrocks.com. They loved it and told us that Tom would love it too. We were planning on going to Casey's that night for the traditional music.
We then went to visit with Teresa Bohan and pick up Gerry out at Rynn. This was one of the days that we went graveyard searching and the weather was bad. Everything in town was decorated with green and white; shamrocks, harps and claddaghs; banners across the main street; decor in all of the shops, all of the pubs ... everything! The Mohill parade was going to be held the next day, on Sunday, March 18th, but there were plenty of things to do.
We stopped into O'Brien's to say "hello" and to give them their placard, which they put up in a prominent spot right away. We went from there to Carrigallen, where Gerry bought us lunch at the local hotel dining room. After the graveyard search, we brought Gerry with us to Cloonboney Cottage because we wanted to get ready for our evening out. He knew of it but had never been there. He just kept saying what a lovely place it was, as did everyone we told.
When we went back to Mohill, we went to O'Carolan's Pub. I asked to speak to Keiran O'Carolan and I gave him his placard. He was thrilled with it. He told me that he had been to the website and had read all the stories. He thanked me for mentioning the pub in some of the stories and put up his placard on the bar.
Terry and Gerry had gone to find a seat, so I went to sit down. Passing Gerry Mahan, I stopped to say "hello", then went to find the guys. Pascal and Pauline were there, and George Taylor, and Irene, sans Peadar. We met a new friend, Nuala, who was a friend of Pauline.
The music started but people just weren't dancing ... maybe it was too early. As new people came in everyone was commenting on what St. Patrick's Day garb was being worn. Mostly everyone wore something green, whether it be clothing or accessories. We stayed and visited with everyone until about 11:00 PM, then went to Casey's Bar.
The place was packed and we couldn't find a table so we stood around with our drinks. Tom Casey acknowledged us but he was very busy. Irene Casey was there with a few friends and we visited with her. We introduced her to Gerry, whom she had never met. Finally, a table opened up at about midnight. We sat down and I took a short film of the musicians playing traditional music. Bernie Reynolds was there and Gerry Mahan ... some of the people from O'Carolan's had migrated to Casey's for the music. I guess it was about 1:00 AM when we went back to O'Brien's which was also packed to the walls. We saw Arnold Fitzpatrick and his wife, Kathy. Gerry ran into an old friend he hadn't seen in about five years, also named Gerry. Before I forget ... I found out the real name of "The Willett" ... his name is also Gerry ... Gerry Dooner.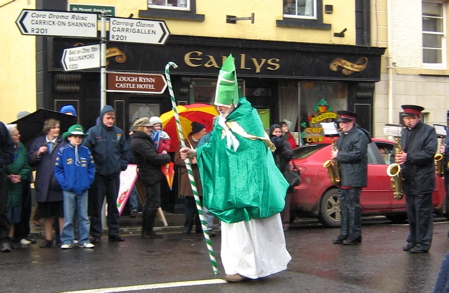 On Sunday we picked up Gerry Bohan and went about our graveyard search. Afterwards, we went to lunch at Planxty McGuire's and then to the parade. It was pouring rain and hail but the parade went on as scheduled. Jim O'Brien was playing the part of St. Patrick again. I wanted to get a photo with him but the town was filled with people and I couldn't get anywhere near him. I thought it was rather funny that the pace of the parade was a bit faster than it normally would be but it was understandable due to the weather. When it was over, we went to O'Brien's and O'Carolan's for one last visit with our friends. Both places were crowed to the walls and we had a great time!
All in all, we had a wonderful vacation on our whirlwind trip to Ireland. We didn't happen to see Vincent Shanley or Peadar Reynolds. We did go into Cryan's in Carrick to see Mary Burke and we saw Sean Clarke at his hotel. We never ran into John Reynolds after our first day there. He is the Chef at a 'guests only' restaurant in the new hotel in Drumshanbo. We spoke on the phone before we left and he told us that he had been very busy with St. Patrick's Day guests and two weddings at the hotel. We thanked him again for the stay at Cloonboney Cottage and said "goodbye"; until the next trip.
Related Stories:
St. Patrick and The Irish
The Irish Leprechaun and St. Patrick's Day

Disclaimer: LittleShamrocks.com is an affiliate website that receives commissions from sales of the products listed. We have purchased and sampled many, but not all, of the products on these pages.

© Copyright LittleShamrocks.com. All Rights Reserved.