Grilled Irish Sausages (Bangers)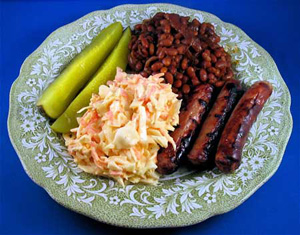 with
Homemade Baked Beans
&
Homemade Coleslaw
1 lb
Donnelly's Irish Sausages
1/4 Cup Barbecue Sauce
Prepare your grill by preheating for low temperature cooking according to manufacturers instructions. Place sausages onto grilling surface and brown on all sides. Brush each one with barbecue sauce and continue grilling until done. Serve on a platter with or without frankfurter buns.

Disclaimer: LittleShamrocks.com is an affiliate website that receives commissions from sales of the products listed. We have purchased and sampled many, but not all, of the products on these pages.

© Copyright LittleShamrocks.com. All Rights Reserved.