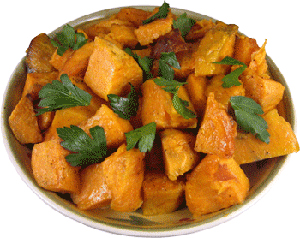 2 lb Sweet Potatoes
1/4 Cup Olive Oil
Salt and Freshly Ground Pepper
Parsley to Garnish
Preheat oven to 400F.
Peel the sweet potatoes and cut into large chunks. Toss in olive oil to coat and season to taste.
Place in a baking pan, cover with foil and roast for 20 minutes. Remove the foil and roast uncovered for 30 minutes longer or until cooked through and golden brown. Garnish with parsley. Yield: 8 servings

Disclaimer: LittleShamrocks.com is an affiliate website that receives commissions from sales of the products listed. We have purchased and sampled many, but not all, of the products on these pages.

© Copyright LittleShamrocks.com. All Rights Reserved.