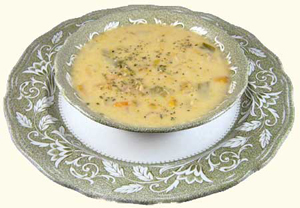 1 Onion, chopped
2 Leeks, chopped
1/2 Cup Celery, chopped
9 Tablespoons Butter
1/2 Cup Carrots, chopped
1 lb Butternut Squash, chopped
1 Small Turnip, chopped
2 Tart Cooking Apples, chopped
4 Cups Chicken Stock
6 Tablespoons Flour
1 Cup Apple Cider
1/4 Teaspoon Nutmeg
1/4 Teaspoon Rosemary
1/4 Teaspoon Sage
1/2 Cup Heavy Cream
1/2 Cup Gruyere Cheese
Cook the onion, leeks & celery in a kettle in 3 tablespoons of the butter over moderate heat, stirring for 5 minutes or until soft. Add carrot, squash, turnip, apples and stock.
Bring to a boil. Simmer for 45 minutes or until tender. Melt 6 remaining tablespoons of butter over moderate heat, add flour & cook the roux, stirring for 3 minutes.
Remove pan from heat, add 1 cup liquid from soup in a stream, stirring, then stir the mixture into the soup.
Add cider, nutmeg, rosemary & sage. Salt & pepper to taste. Simmer 10 minutes. Stir in cream and Gruyere. Makes 9 cups.

Disclaimer: LittleShamrocks.com is an affiliate website that receives commissions from sales of the products listed. We have purchased and sampled many, but not all, of the products on these pages.

© Copyright LittleShamrocks.com. All Rights Reserved.