Chocolate Walnut Brownies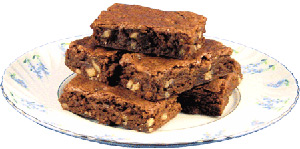 3/4 Cup Packed Light Brown Sugar
1 Cup Granulated Sugar
2/3 Cup Unsweetened Cocoa Powder
1 1/4 Cups All-Purpose Flour
1 Teaspoon Baking Powder
1/2 Teaspoon Salt
1/2 Cup Chopped Walnuts
3/4 Cup Butter, softened
3 Eggs
1 1/2 Teaspoon Vanilla
Preheat oven to 350F.
Lightly grease 13 x 9 inch baking pan. Beat butter in large bowl until smooth. Beat in eggs and vanilla until blended. (Mixture may appear curdled.) Add the remaining ingredients to the butter mixture; stir until well blended.
Spread batter evenly in prepared pan. Bake 20 to 25 minutes or until brownies spring back when lightly touched. Do not over bake. Cool completely in pan on wire rack. Yield: 2 1/2 dozen brownies.

Disclaimer: LittleShamrocks.com is an affiliate website that receives commissions from sales of the products listed. We have purchased and sampled many, but not all, of the products on these pages.

© Copyright LittleShamrocks.com. All Rights Reserved.