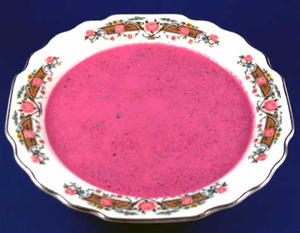 15 ounce can small whole beets; reserve liquid
1 Medium Cucumber
1 Scallion, finely chopped
2 Large Hard Boiled Eggs; chilled, peeled and finely chopped
8 oz Sour Cream
1 Tablespoon Cider Vinegar
2 Tablespoons Sugar
1/2 Teaspoon Salt
1/2 Teaspoon Pepper
Drain the beet liquid into a medium bowl and set beets aside. Peel cucumber, quarter and remove seeds. Using a food processor or blender, finely chop beets, cucumber and scallions.
Place into a large bowl with chopped eggs. Add to the beet liquid, 1 cup of cold water, sour cream, vinegar, sugar, salt and pepper.
Mix thoroughly with a wire whip until smooth. Pour mixture over chopped vegetables, stir and chill atleast 2 hours or overnight. Stir and serve chilled as an appetizer or with a sandwich.

Disclaimer: LittleShamrocks.com is an affiliate website that receives commissions from sales of the products listed. We have purchased and sampled many, but not all, of the products on these pages.

© Copyright LittleShamrocks.com. All Rights Reserved.