So, now you know...our special event was to see Il Divo in concert at The Point in Dublin. The Point Depot is Ireland's premier venue for concerts such as this. The building is a converted railroad depot on the North Quay, next to the River Liffey in Dublin.
Il Divo is my favorite group and I became mesmerized by them when they appeared on The Oprah Winfrey Show in 2004. I had The Oprah Show on, but I was in another room. Then I heard those wonderful male voices singing a familiar tune. I went back to the TV and saw those four gorgeous men singing an Italian version of "Unbreak My Heart" by Toni Braxton. In Italian it is called Regressa A Mi, and it was beautiful. That was it ... I was hooked!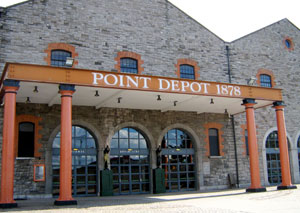 Il Divo's unique sound brought Terry and I back to our teenage years in the late 1950's to early 1960's. Their music is reminiscent of romantic ballads sung by harmonizing male groups with big voices. Since then, you rarely hear songs of that caliber; that is, until Il Divo happened. For those of you who don't know of them, they are an international group of four handsome and stylish young men based in the UK, who sing what some call "Popera". Three of them are classically trained opera singers and one is a pop singer/songwriter. Most of their music is in Italian, but some is in Spanish, French and English. They specialize in slow romantic ballads, and believe me, their stage persona fits their music.
Il Divo, Italian for "divine male performer", was discovered by Simon Cowell, the British pop impresario from American Idol and other similar talent search shows. After a world wide search and auditions, he found these four remarkable talents: David Miller, tenor from America; Carlos Marin, baritone from Spain; Urs Buhler, tenor from Switzerland; and Sebastien Izambard, pop singer from France. The blend of their individual voices, and the emotions they put forth in their performances, make thousands of women, all over the world, melt into pools of ecstasy.
The opening act for Il Divo was Natasha Marsh, a soprano from the UK. She performs a variety of musical numbers using her beautiful voice to sing pop songs and old standards. Natasha is accompanied by a string quartet and is also a gifted pianist herself. I really enjoyed her rendition of the Roberta Flack song "The First Time".
After a short intermission, the Il Divo Orchestra and Band appeared on stage playing a medley of their most popular numbers. Then the curtain dropped to the floor and there they were...I was on Cloud 10. Not only are they handsome and talented, but they are funny too. And, Carlos, the only married one, flirts the most.
We had great seats, and I think I bought the last two tickets. I was trying to buy some through Ticketmaster but they were Sold Out. Ahah! Ebay! It only took a couple of minutes and I was on it ... two tickets, front row center in the balcony ... I snapped them up so fast ... and I was very lucky!! The seller was from the UK. I asked him to send the tickets to Mary Lydon in Ireland because I wasn't sure I would receive them before we left on our trip.
The concert was spectacular and I loved it. I was taking lots of photos and even tried to take a couple of short film clips. During La Vida Sin Amor, which has a Latin beat, they were dancing around on stage ... so cute. Close to the end of the concert, the first of two nights, and just before My Way, Seb spoke to the audience about how great it was being there and he hoped Dublin would invite them back again. Then David says, Like tomorrow night. Everyone roared with laughter and poor Seb looked embarrassed. He kept laughing, with no help from his comrades, and was having a very hard time getting his composure back. Finally, by the end of the song, he managed to collect himself for the finish. It was great!! I just loved being there doing my two favorite things...vacationing in Ireland and listening to Il Divo sing - LIVE!!
More information about
The Point
.
More information about
Il Divo
.
Click here for the next story
Off to Leitrim
.

Disclaimer: LittleShamrocks.com is an affiliate website that receives commissions from sales of the products listed. We have purchased and sampled many, but not all, of the products on these pages.

© Copyright LittleShamrocks.com. All Rights Reserved.