Chocolate Mayonnaise Cake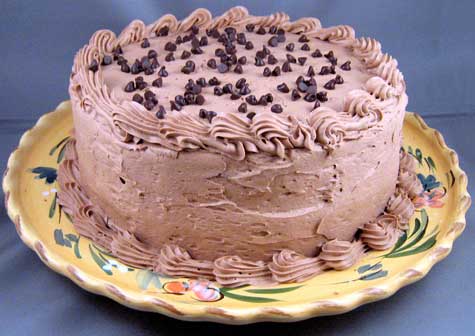 2 Cups Flour
1 Cup Sugar
1 Cup Mayonnaise
1 Cup Water
2 Teaspoons Baking Soda
1 Teaspoon Vanilla
4 Tablespoons Cocoa Powder
Preheat oven to 350F.
Mix all ingredients until smooth. Pour into two 8 inch cake pans, greased and floured. Bake at 350 for 25 to 30 minutes, or until a toothpick inserted in the center comes out clean. Cool completely on a wire rack. Frost with your favorite flavor icing or try my recipe for Best Buttercream Frosting.
Best Buttercream Frosting
4 Sticks unsalted butter, softened
1 16 ounce tub marshmallow cream
2 Cups confectioners' sugar
2 Teaspoons vanilla extract
Beat butter in a large bowl with mixer on medium speed until creamy. Beat in marshmallow cream until well blended. Reduce speed to low; beat in confectioners' sugar and vanilla. Increase speed to high and beat 3 to 4 minutes until fluffy.
For Chocolate Buttercream add 8 tablespoons dark cocoa powder.

Disclaimer: LittleShamrocks.com is an affiliate website that receives commissions from sales of the products listed. We have purchased and sampled many, but not all, of the products on these pages.

© Copyright LittleShamrocks.com. All Rights Reserved.