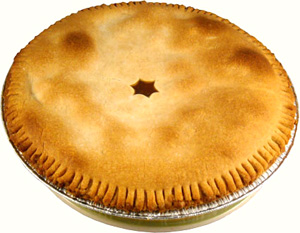 What to do with all of those holiday leftovers? Here's a great recipe!
1 Prepared Recipe for Deep Dish 9-inch Two Crust Pie
2 Cups Diced Cooked Turkey Breast
2 Cups Diced Potatoes
1 Cup Diced Carrots
1 Cup Diced Onion
1 Cup Frozen Whole Kernel Corn
1 Cup Frozen Peas
3 Cups Prepared Turkey Gravy
Preheat oven to 350F.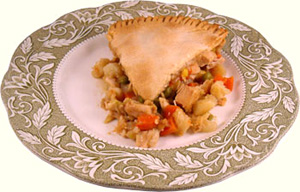 In a large saucepan, add potatoes, carrots and onions; add water to just cover vegetables. Bring to a boil and cook for 10 minutes on medium heat. Add frozen corn and peas and cook another 2 minutes; drain. Add turkey and gravy; stir to coat. Fill the bottom pie crust and level off. Top with second crust and seal the edges.
Bake at 350F for 40 to 50 minutes until golden. Remove from oven. Yield: 6 servings

Disclaimer: LittleShamrocks.com is an affiliate website that receives commissions from sales of the products listed. We have purchased and sampled many, but not all, of the products on these pages.

© Copyright LittleShamrocks.com. All Rights Reserved.