Grilled Bacon (Rashers), Lettuce & Tomato Sandwiches On Brennans 100% Whole Meal Bread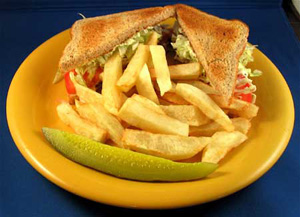 with
Homemade French Fries
(Chips)
2 1/2 lb Packages
Donnelly's Irish Style Rashers
(Bacon) 800g Package Brennans 100% Whole Meal Bread
2 Large Tomatoes, sliced thin
1/3 Head of Lettuce, shredded thin
Mayonnaise
Preheat grill and place bacon slices, cook at low heat, turning often until brown and crisp. Toast 2 slices of bread and spread both with mayonnaise. Place 2 pieces of bacon on the bottom slice. Add sliced tomatoes and top with lettuce. A chef once told me the secret of a great sandwich is to slice it thin and pile it high. Top with the second slice, cut diagonally and serve with fries and a pickle. Yield: 6 sandwiches.

Disclaimer: LittleShamrocks.com is an affiliate website that receives commissions from sales of the products listed. We have purchased and sampled many, but not all, of the products on these pages.

© Copyright LittleShamrocks.com. All Rights Reserved.