Guinness Batter Onion Rings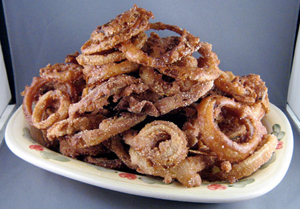 2 Large Vidalia Onions, peeled and sliced 1/4" to 1/2" thick
1 Package Vidalia Onion Ring Coating Mix
12 oz Guinness Stout
1/2 Cup Corn Meal
For homemade fried food that tastes professionally prepared, I use my deep fryer for the best results.
Separate the onion slices into rings. Whisk 2 cups of the coating mix with the Guinness Stout until smooth. In another bowl, add the corn meal to the remainder of the coating mix and combine.
Preheat Canola oil 2/3 full in a deep fryer or deep kettle to 375F.

Coat the onion rings in the batter a few at a time. Dust or roll in the dry coating mix then drop into hot oil. Cook for 4 minutes then turn out onto paper towels to drain.
Salt lightly. Make them in batches and serve hot with ketchup or your favorite dipping sauce.

Disclaimer: LittleShamrocks.com is an affiliate website that receives commissions from sales of the products listed. We have purchased and sampled many, but not all, of the products on these pages.

© Copyright LittleShamrocks.com. All Rights Reserved.