Chunky Irish Potato and Leek Soup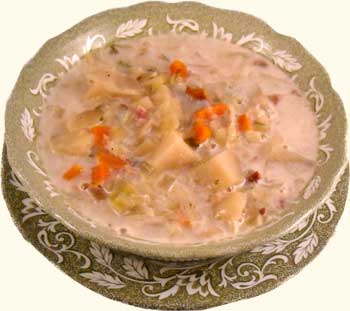 4 Cups Chicken Broth
3 Potatoes, peeled and diced
1 1/2 Cups Chopped Cabbage
1 Leek, diced
1 Onion, chopped
2 Carrots, diced
1/4 Cup Chopped Fresh Parsley
1 Teaspoon Salt
1/2 Teaspoon Caraway Seeds
1/2 Teaspoon Black Pepper
1 Bay Leaf
1/2 Cup Sour Cream
1 lb Bacon, cooked and crumbled
Slow Cooker Directions:
Combine chicken broth, potatoes, cabbage, leek, onion, carrots and parsley in a large bowl; pour mixture into slow cooker. Stir in salt, caraway seeds, pepper and bay leaf. Cover; cook on LOW 8 to 10 hours or on HIGH 4 to 5 hours.
Remove and discard bay leaf. Combine some hot liquid from slow cooker with sour cream in small bowl. Add mixture to slow cooker; stir. Stir in bacon. Yield 6 to 8 servings

Disclaimer: LittleShamrocks.com is an affiliate website that receives commissions from sales of the products listed. We have purchased and sampled many, but not all, of the products on these pages.

© Copyright LittleShamrocks.com. All Rights Reserved.