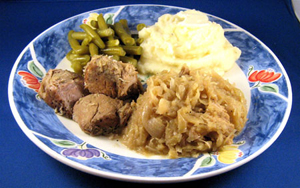 1 1/2 Pounds Lean Boneless Pork Cutlets
1 Medium Onion, chopped
1 Large Can Sauerkraut
1 Medium Jar Applesauce
1/4 Cup Packed Brown Sugar
Salt & Pepper To Taste
In an extra large skillet or Dutch oven sauté the onion and brown the pork. Add sauerkraut, applesauce, brown sugar, salt and pepper.
Simmer for 1 hour. Serve with mashed potatoes and pumpernickel bread.

Disclaimer: LittleShamrocks.com is an affiliate website that receives commissions from sales of the products listed. We have purchased and sampled many, but not all, of the products on these pages.

© Copyright LittleShamrocks.com. All Rights Reserved.