Irish Broccoli & Cheese Pie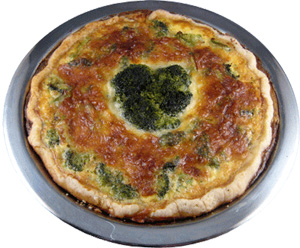 1 9 Inch Deep Dish Pie Shell
1 10 oz Package Frozen Chopped Broccoli, about 1 1/2 Cups
8 oz Fresh Mushrooms, thinly sliced
1 Cup Milk
3 Eggs, beaten
2 Tablespoons Margarine, melted
1 Tablespoon Flour
1 Teaspoon Salt
1/2 to 1 Teaspoon Pepper
1 Cup
Kerrygold Irish Vintage Cheddar
, divided
Preheat oven to 375F.
Bake pie crust about 10 minutes or until bottom is slightly brown. Let cool. Cook broccoli until tender; drain well. Combine milk, eggs, margarine, flour, salt, pepper and 3/4 cup cheese; whisk until well blended.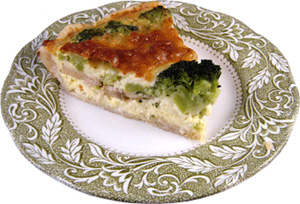 Sprinkle remaining 1/4 cup of cheese over crust. Layer broccoli and mushrooms on cheese. Pour milk and egg mixture over all. Bake at 375F for 35 to 45 minutes or until a knife inserted in center comes out clean.
Makes 4 to 6 servings.

Disclaimer: LittleShamrocks.com is an affiliate website that receives commissions from sales of the products listed. We have purchased and sampled many, but not all, of the products on these pages.

© Copyright LittleShamrocks.com. All Rights Reserved.