Tyna's Homemade Baked Beans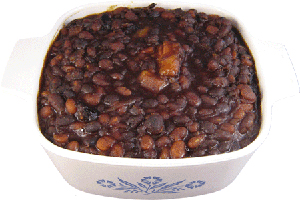 1 lb Package Dry Navy or Small Pea Beans
1/4 lb Lean Sliced Bacon, cut into 1 inch squares
1 Medium Onion, sliced thin
1/3 Cup Brown Sugar, firmly packed
1/2 Cup Molasses
1 Teaspoon Dry Yellow Mustard
1/4 Cup Tomato Ketchup
1/4 Cup Maple Syrup
Preheat oven to 300F.

Even though a covered casserole will do, the liquid tends to evaporate too fast. I prefer to use my
bean pot
for better results.
Rinse beans and add to 2 quarts cold water. Bring to boiling, simmer 3 minutes, remove from heat, cover and let stand 1 hour.
Add 1/2 teaspoon salt to pan, return to boiling, cover and simmer until tender, about 1 hour. Drain, reserving liquid, adding water if needed to make 2 cups.
Add Sugar, molasses, mustard, ketchup and maple syrup, stirring until well blended.
Using a 2 quart bean pot or casserole, spoon in 1/2 the beans. Cover with the sliced onion and the bacon. Spoon in the remaining beans, then pour liquid over top.
Cover and bake at 300 for 5 to 7 hours. Check occasionally, adding water if needed. Serve directly from the pot.

Disclaimer: LittleShamrocks.com is an affiliate website that receives commissions from sales of the products listed. We have purchased and sampled many, but not all, of the products on these pages.

© Copyright LittleShamrocks.com. All Rights Reserved.