Early in 2005, before we left for our St. Patrick's week vacation, we found The Leitrim-Roscommon 1901 Census Records on the internet. We were trying to find out from what part of Co. Leitrim Terry's grandfather, Terence Reynolds, had come, and to see if we could locate the house or property where the family had lived. Terence would have been a boy of about 10 or 11 at that time. We knew that his father's name was Bernard, his mother's name was Winifred, and he had a brother named Hugh and a sister named Mary Katherine. Well, we found the Bernard Reynolds family in the Townland of Aghalough, the Parish of Cloone, the Barony of Carrigallen, in Co. Leitrim. Bernard was 56, Winifred (Una) was 40, Mary Katherine was 11, Margaret was 9, Hugh was 8 and Bridget was 5. But where was Terence?
I kept searching using the name of Terence Reynolds as a member of any household. Finally, Eureka!! I found him. He was working as a servant at the Francis Bohan home in the neighboring Townland of Killyfea, the Parish of Cloone, the Barony of Carrigallen, in Co. Leitrim. This was a young family with two small children, ages 1 year and 2 months. When we inquired about such a young boy working as a servant, we were told that he most likely worked in the home helping the wife. It was a coincidence that the family's name was Bohan, because we had become friends with Teresa Bohan, one of the caretakers at the Lough Rynn Estate in Mohill, which is just a few miles from Cloone. Although Bohan is her married name, we will try to find out if she might know anything about it.
Terence immigrated to the United States the following year, 1902, which was information we obtained from the 1930 U.S. Census Records. We have not found any information about with whom he traveled or where he lived when he arrived. We do know that he settled in Norwood, Massachusetts when he married Margaret Clarke in 1912. This was in the Irish section of Norwood, where all the neighbors were of Irish descent. When we went to St. Mary's Catholic Church in Dedham, Massachusetts, where they were married, we found that Terence's Best Man was named Patrick Lydon. This was another coincidence because we had met the Michael Lydon family in Co. Meath, and they told us that they had relatives in Norwood. This couldn't possibly be the same Lydon's, could it? We would try to get that information as well. If the Bohan family and the Lydon family turn out to be the same families that we met, I guess I would have to say that it was fate!!
Note: We were unable to find the Bernard Reynolds family home or property. We were also unsuccessful in finding the family burial plot in the cemeteries where we looked in March 2005, but have since learned of another old cemetery in Cloone, where we will look on our next visit.
There were so many places where we received confusing information about Terry's Reynolds family. We recently learned that Grandfather Terence arrived in the port of Boston aboard the Cymric in 1908. He would have been about seventeen years old, which contradicts the information we previously had by six or seven years. It makes more sense now that he was seventeen when he arrived instead of ten or eleven. We also learned that his brother, Hugh, and his sister, Brigid, arrived in Boston in 1914. We still don't know when Mary Catherine arrived but we do know that she did come. We believe that Brigid and Mary Catherine returned to Ireland as there is no other information about them living here. Although Grandfather Terence never returned to Ireland, Hugh traveled to Co. Leitrim every few years, probably to visit his sisters. We found that Terry's grandmother, Margaret Clarke Reynolds, came from Kells, Co. Meath, in 1911. We found out that the Patrick Lydon who was Terence's best man at his wedding was not related to our friends, the Michael Lydon family of Co. Meath. The relatives that lived in Norwood were Mary Lydon's side of the family, the Baileys. We also learned that Teresa Bohan of Rynn had no information about the Francis Bohan family that lived in Killyfea. Terence worked for that family when he was about ten or eleven years old and we still don't know if they were related to Teresa's husband, John P. Bohan.
We have recently started a couple of searches with LittleShamrocks.com's new Irish roots affiliate, Records Ireland. The site is easy to use and not as expensive as other genealogy search engines.
7/1/2009
More Reynolds Family Genealogy and Updated Information:
We received a surprise submission from Rich Reynolds, Terry's cousin, from Rhode Island. We hadn't seen Rich in more than nine years when he was a newlywed living in New Hampshire. Now, he and his wife, Lori, have an eight-year-old daughter named Mary Catherine Reynolds. He is still working on a family tree and was searching when he found LittleShamrocks.com. He was delighted to see that it was ours and he learned some new information. After corresponding with him a few times, we both learned something new about their branch of the Reynolds family tree.
Rich told us that one of grandfather Terence's sisters, Margaret, had passed away circa 1910 at the age of 18 in Ireland, due to an appendicitis attack. We knew that one of them had passed at a young age but were not sure which one. He told us that another of the three sisters, Mary Kate, had emigrated to the USA and had married someone named Phillips. Mary served as a witness at her brother Terence's wedding to Margaret Clarke in 1912. She spent most of her married life in Connecticut and lived to the ripe old age of 95. The year of Mary's passing would have been about 1986. Rich knew nothing of Bridget (Brigid), who was the youngest sister. He was interested in learning that she had emigrated with her brother Hugh in 1914, but what happened to her? Mary had emigrated in 1909 at age 19, and was met at the ship by Terence. Her immigration records say that she was aboard the S.S. Saxonia, arriving on September 22, 1909. Her closest relative in Ireland was her father, Bernard, who lived in Carrigallen, Killyfea, Carrigallen, Co. Leitrim. Her birthplace is listed as Carrigallen, the same as Hugh's birthplace in Aughavas or Carrigallen.
Another point of interest for Rich was that we had found a newspaper obituary for Bernard Reynolds, through our affiliate, RecordsIreland.com. Because of that obituary, we learned that Bernard was a widower when he passed in 1913, so his wife, Winifred, had already passed. Also in 1913, the remaining children, Hugh and Bridget, went to live with their mother's brother, Peter Shanley, in Ballinamore, until the two of them emigrated in 1914. I just can't wait to go grave hunting when we get to Ireland in December. Ireland doesn't get very cold and gets only a trace of snow, so it should be no problem. I think we should start our search looking for Shanley graves in the Ballinamore area ... just a feeling I have.
More Casey Genealogy
My sister, Marylou, who has been following the Willett branch of our family tree, gave me a few tidbits she learned about our Irish famine immigrant great-great grandparents, Michael Casey and Mary Ann (Denning) Casey. I didn't know the names of our great grandmother, Anna's, siblings. She had two brothers, Patrick and Edward, and one sister, Catherine; along with Anna, all four of them were born in the Province of Quebec, Canada.
Patrick was the oldest (d.o.b. 1854), married Lizzie D., and they had two children, a daughter, Kate, and a son, John. This information came from the 1880 U.S. Census and Patrick was listed as the only sibling who could read and write. Edward was the second born (d.o.b. 5-18-1855), was never married and was employed as a marble polisher. He passed away on 1-11-1927 at the age of 71.
Anna (d.o.b 4-18-1857) was the third born. She was married to Edward Willett, Jr. and had three children, two sons, Jeremiah and Charles, and one daughter, Clara. Jeremiah was my grandfather. Anna was a homemaker and she passed away at Mary Fletcher Hospital in Burlington on 11-15-1914 at the age of 57. Her funeral Mass was observed at St. Mary's Cathedral in Burlington, Vermont, and she was buried at St. Joseph's Catholic Cemetery, also in Burlington.
Catherine was the youngest (d.o.b. June 1861), and was also never married. She was employed as a domestic and passed away in Burlington on 9-27-1913 at the age of 52. Her residence was listed as 30 Spruce Street in Burlington. As a young child, in the 1950's, I remember our family stopping at Clara's house on Spruce Street. She and her husband, Henry Killary, owned the house at the time and it is possibly the same house which was passed down in the family.
Patrick and his family must have moved elsewhere because, at present, no death records have been found for him or his family in Burlington, Vermont. In Anna's obituary, Patrick was not listed as a surviving sibling, so he must have died prior to 1914. Their parents, Michael and Mary Ann Casey, are buried in one of the Catholic cemeteries in Burlington. Marylou also gave me copies of some photos of Anna and her husband, Edward Willett Jr., taken sometime between 1873 and 1886.
| | |
| --- | --- |
| | |
| Anna Casey Willett | Edward Willett Jr. |

7/14/2009
Additional Reynolds Genealogy
Terry and I have been corresponding with his cousin Rich Reynolds, who has shared some more news about the family tree in the form of draft cards for Terence and Hugh, and a photo of Hugh.
As it turns out, grandfather Terence was older than we thought. His death certificate stated that he was born in 1890 but he was actually born on May 10, 1887. It was so coincidental that Terence arrived in Boston on his 21st birthday, May 10, 1908. Rich discovered this information on Terence's draft card from WWI (1917), which also stated that he was of medium height and weight, at 5'4" tall and 150 pounds, and his age was thirty. His name is spelled Terrence but, on most other documents, we have found it was spelled Terence.
It also states that he had hazel eyes and brown hair, had a ruddy complexion and was married to Margaret, with two children, who must have been Terry's father, Terence, and Catherine. It also states that he did not have a birth certificate, although it says that he was born in Co. Leitrim, Ireland. On the WWII (1942) draft card, the information is the same except that he had gray hair and was fifty-five years old.
Terry was only three years old when Terence passed away in 1943, so he doesn't remember him, but he remembers the family mentioning that he was small in stature. When we read that, Terry and I looked at each other and simultaneously said, 'Gerry!'. Terry's youngest brother, Gerry, is about that size. Terry certainly didn't take after his grandfather because he is 6'2". Here is a nice picture of Terry and his brothers taken one Easter Sunday. Guess which one is Terry ... haha.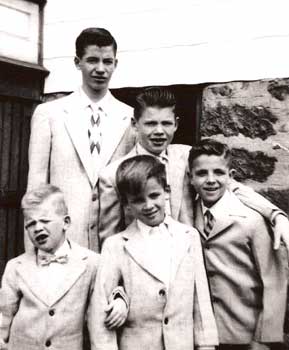 Back, L to R: Terry and Jimmy Reynolds, neighbor Tony Serani
Front, L to R : Gerry and Paul Reynolds
The information on Hugh's draft card from WWI stated that his name was Hugh Bernard Reynolds, he was twenty-two years old, born on September 3, 1894, was of medium height at 5'5" tall, and of slender build at 131 pounds. He had dark brown hair and gray eyes with a sallow complexion.
It did not state that he had a birth certificate, but did say that he was born in Aughavas, Co. Leitrim, Ireland. At the time, he was single and had a stiff knee joint due to an operation on his right leg, and he walked with a limp. On the WWII draft card (1942), the information was slightly different, including that he was married to Helen. Of course, his age was 47, he had brown hair, slightly gray, slightly balding, and this time he had brown eyes.
Also, this time his place of birth was given as Carrigallen, Co. Leitrim, Ireland. After years of research, I have learned that sometimes Aughavas and Carrigallen are interchangeable, depending whether it is the Townland, Parish or Barony, or what year it was, which is very confusing. Here is a nice photo of Hugh Bernard Reynolds, probably from the 1920's.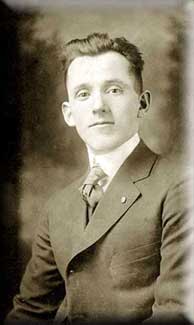 Hugh Bernard Reynolds

Disclaimer: LittleShamrocks.com is an affiliate website that receives commissions from sales of the products listed. We have purchased and sampled many, but not all, of the products on these pages.

© Copyright LittleShamrocks.com. All Rights Reserved.