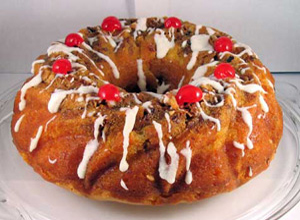 Cake:
1 Cup Chopped Toasted Pecans or Walnuts
1 18.5 oz Yellow Cake Mix
1 3.75 oz Instant Vanilla Pudding Mix
4 Eggs
1/2 Cup Cold Milk
1/2 Cup Vegetable Oil
1/2 Cup Irish Whiskey
Preheat oven to 325F.
This recipe can be made in a plain tube pan but I prefer the design of the bundt pan which now comes in all shapes and sizes.
Grease and flour bundt or tube pan. Sprinkle nuts in the bottom of the pan. Combine remaining ingredients and beat 2 minutes on high. Pour into pan and bake 1 hour. Cool in the pan and invert onto plate.
Glaze:
1 Stick Butter
1/4 Cup Water
1 Cup Sugar
1/2 Cup Irish Whiskey
Melt butter in saucepan. Stir in water and sugar and boil 5 minutes, stirring constantly. Remove from heat and stir in whiskey.
Prick several holes in top of cake with a toothpick. Use a brush or spoon to drizzle glaze over the cake.

Disclaimer: LittleShamrocks.com is an affiliate website that receives commissions from sales of the products listed. We have purchased and sampled many, but not all, of the products on these pages.

© Copyright LittleShamrocks.com. All Rights Reserved.